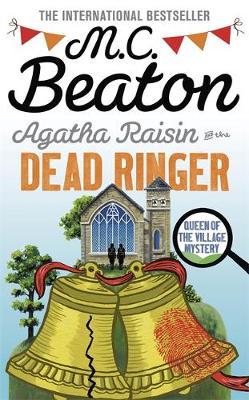 Mystery Club
Agatha Raisin and the Dead Ringer
by M.C. Beaton
Thursday, 25th February
Online – at 7pm
A few years ago, during our past Mystery Club Meetings we have met Agatha Raisin. We know, she is enjoying life in her pretty Cotswold village of Carsely. But….
As the bell-ringers get ready for the visit of the dashing Bishop Peter Salver-Hinkley, the whole village is thrown into a frenzy. Meanwhile, Agatha convinces one of the bell-ringers, the charming lawyer Julian Brody, to hire her to investigate the mystery of the Bishop's ex-fiancée, who has disappeared.
Let us follow our Agatha and… let us be impulsive, funny and daring as she is. We will meet on Thursday, 25th February 2021 and try to solve the mysteries. Read up till the end of chapter 9 (page 182), " 'It's Mavis Dupin,' she shouted before losing consciousness again."
You will find a copy waiting for you at the bookshop il libro. If you cannot come, we can also send you a copy. We arrange deliveries directly to your doorstep.
If you wish to participate, please let us know by email so that we can send you the zoom invite. Thank you!